Mercedes MCM2.1 D4 HW version
2021-06-07
---
MCM2.1 HW: D4 – unlock / read / write

The new Mercedes-Benz SFTP MP5 truck is becoming more and more common visitor in a non-dealer workshop. After warranty expires, transport businesses are considering to look for cheaper solutions - but not any less efficient or professional!
To be on top of your competitors, you must be one step ahead. Offering efficient truck services is not possible without the right tools and experience. Especially when it comes to programming.
In June 2019, the new Mercedes-Benz SFTP MP5 trucks were introduced, and up to date, engine system is controlled by new version of
Continental MCM2.1 HW:D4
control unit (ECU).
Today we are going to discuss how you can unlock, read and write MCM.2.1 HW: D4 with
VEI - Truck Explorer®
tool!
UPDATE: from 2022-05-23
possible to read/write MCM2.1 D4 and D5 without needing to open and unlock!
*video demonstration
Giving you the access to program newest Mercedes-Benz trucks! Whether that would be a power increase, Adblue system disable or any other operations.
FIRMWARE UNLOCK
All MCM2.1 HW: D4 ECUs are locked. To access MEMORY (read / write flash&eeprom) operations, you need to unlock firmware first.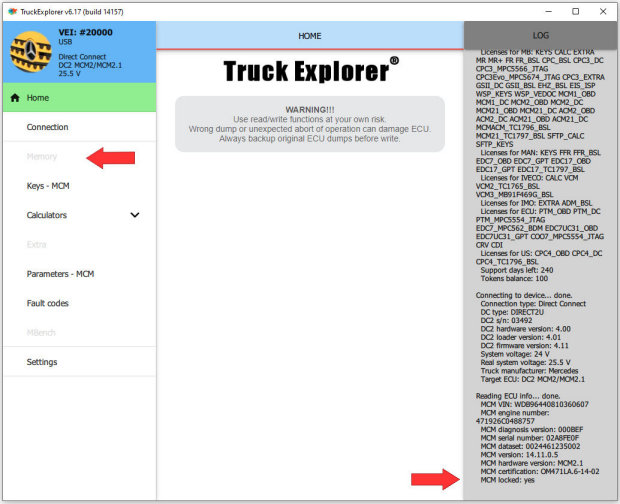 How to unlock firmware?
Open MCM and prepare ECU for BSL mode;
Connect DC2U-ISP7 cable to the PCB of the MCM;
Connect DC2-ACM/MCM cable to the ECU and DC2U tool;
Connect DC2U tool to VEI device and your computer;
Open Truck Explorer Software and connect to the ECU
Press MEMORY – MCM tab and unlock firmware.
To perform unlock procedure, you need to have the following equipment:
VEI V6 Wi-Fi device
DirectConnect2U tool
DC2-ACM/MCM adapter
DC2U-ISP7 cable
License MCM2.1 BSL
Valid Update/support subscription
10 Tokens (for unlock)
Software version from v6.17
Note:
Read in BSL mode not available! Only write of original flash. Always save a backup!
Checksum automatically calculates only in DC and OBD modes!
READ & WRITE
When firmware is unlocked:
Disconnect DC2U-ISP7 cable and from BSL mode;
Connect in DC or OBD mode;
In Truck Explorer software choose MEMORY – MCM. Read flash & eeprom;
Write back remapped files.
For read and write operations, you need to have additional licenses:
MCM2.1 DC;
MCM2.1 OBD;
Or license pack MCM2.1, for both modes.
Step by step video manual how to unlock / read / write MCM2.1 HW:D4
https://www.youtube.com/watch?v=1lqJGhGN4Sk
For any additional questions and a free consultation please write to our website live chat or
contact us here.